Tastsinn-VR: Tactile sensory glove for training and remote control of mining and underwater robots supported by virtual reality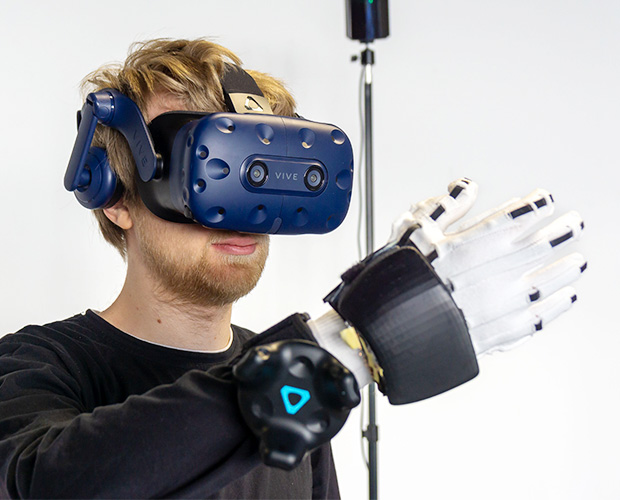 In the Tastsinn-VR project, a glove is to be developed that is equipped with pressure sensors on the fingers and in the palm and also has strain sensors on the outside of the fingers that register the position of the individual fingers.
In addition to providing a high level of wearing comfort, the textile wearer is primarily responsible for integrating the sensors, their signal lines and the wireless electronics.

The pressure sensors consist of dielectric elastomer sensors that are very thin (less than 1 mm) and very soft. Thus, they disturb the tactile sensation only minimally. Depending on the application, these pressure sensors can be arranged at different finger and palm positions. To detect finger position, dielectric elastomer sensors are arranged on the outer sides of the fingers as strain sensors. The signal lines are routed in knitted cable ducts and end in small electronics on the back of the hand. These electronics evaluate the sensor values and send the data wirelessly to a receiving device via Bluetooth.
The sensor values of the glove are combined in the software with the display in VR glasses and the data from the 3D scanner sensors of the University of Würzburg in such a way that new operating concepts become possible for the operator of underwater robots.